Armasecure steel doors are constructed from galvanized or stainless steel in self-finish or powder coated to a range of colours. The doors are provided as standard with a Rockwool core to provide excellent insulation performance.
Armasecure doors can be fitted with a wide selection of vision panels and louvres and different types of frame seals and thresholds can be suited to the application. Other options such as automated access equipment and sign writing for bespoke requirements are available. The door sets are provided with a wide variety of ironmongery, including high security, access control and panic exit.
Key features/benefits
Vast range of options to suit any application
Optional colour coated finish to maintain corporate image
1.5mm thick skins are 56% stronger than the industry norm
Low-maintenance and durable heavy-duty doorset
Provide a neat and aesthetically pleasing finish to blend in with the building décor
Fire & acoustic performance available to improve safety
The frame can be a standard rebated profile suited to traditional wall constructions or a wraparound frame for composite walling systems.
The service from Tekta has been perfect.
Option Packs
The Armasecure range is available with 3rd part certifications to meet fire & acoustic door requirements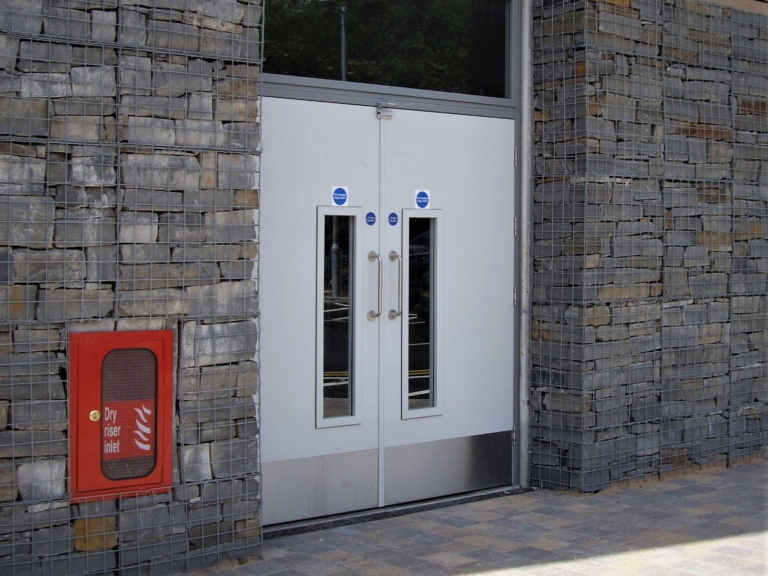 Armasecure F Fire Doors
Armasecure F doors are available tested to provide 1, 2 or 4 hours of fire integrity. Fire rated doors can be fitted with a wide selection of vision panels and fire-block louvre panels.
Armasecure dB Acoustic Doors
Armasecure dB hinged acoustic doors are available with acoustic performance up to 50 dB sound reduction. The ratings have been certified according to European standards. Armasecure dB door sets can also be combined with fire resistance, thermal performance or vision windows.