RAPIDOR SPEED DOORS FOR WRIGHTS NEW FACTORY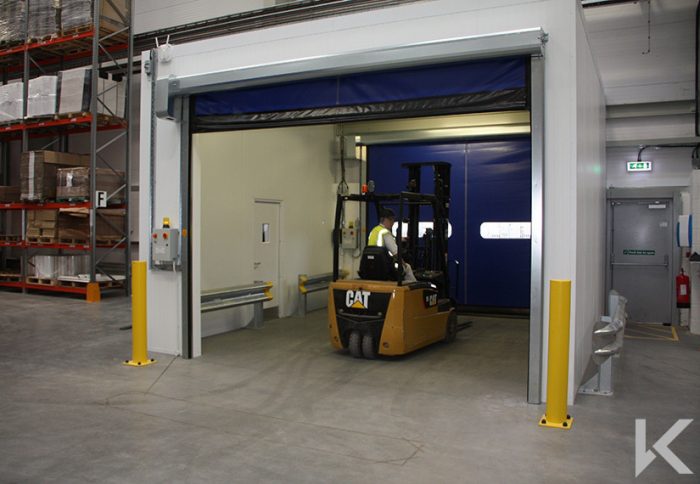 Background:
GR Wrights wide range bakery products have been renowned throughout many generations for their superior characteristics. Through a combination of skills and investment, the company continues to strive for product quality and value improvement.Armashield worked with Chalcroft Construction on Wrights new factory. The new building is a world-class production facility, designed to allow Wrights to continue their expansion long into the future.
The Solution:
GR Wrights Production Director liked what he saw on paper regarding the Rapidor Impact doors but he wasnt going to leave anything to chance so he asked to visit a previous installation. He was impressed with what he saw; in particular the zipper guide met his criteria for both sealing and air-tightness. Armashield proceeded with manufacture and installation of two sets of doors for the airlocks and three larger doors in the internal Factory dividing wall.
The Solution:
Following a request from the client, Tekta visited site to survey and discuss the challenge with the clients Financial Director. The client had considered several door types including sliding hygiene doors, however Tekta made the suggestion of a Rapidor Impact speed door. This provides the benefit of not only a good seal and clean image, but also offers safe and user-friendly operation.
Results:
The airlock doors included an automatic interlock system to ensure the doors could not be opened at the same time and a timer so the second door opens automatically; this helps to minimise the risk of contamination and helps ensure smooth and productive through-flow for the forklifts. GR Wright have been pleased with the speed doors and have recently ordered another Rapidor to the same specification for their original factory which features a 17th Century Mill.
Location:Enfield
Client:Chalcroft/ GR Wright & Sons
Industry:Food