Reliable fire-rated secure exterior doors.
The Traffidor Secure range of hinged hygiene doors provides maximum durability and performance without sacrificing anti-bacterial performance. Optimal for food-grade and cleanroom environments, the fire-rated secure exterior doors deliver strength and stability – fending off fire blazes for one, two or four hours, depending on the model.
The doors are constructed from high-grade galvanised steel leaves with a high-density injected foam core. All joints are fully welded, ensuring rigidness and preventing bacteria or fluid inside the leaf. The doors are manufactured for each project, environment, wall thickness and traffic flow. The range is well insulated and arrives in various colours to suit every application.
The Traffidor Secure range has been extensively fire-tested to British and European standards, making them a sensible choice for businesses across the continent.
Customisable security.
The Traffidor Secure offers a flexible external security door solution and can be customised to suit your use case.
The range provides various options, including standard manual locks, electronic access control ironmongery, and automatic openers.
Impact protection plates, such as stainless steel kickplates, help prevent damage to the door leaves. Meanwhile, vision windows maintain optimum hygiene performance.
Key Features/Benefits
The Traffidor Secure goes the distance for your business.
British and European standard heavy-duty fire-rated exterior doors

Outstanding antibacterial performance with easy clean-down
Manufactured from resilient galvanized steel sheet and reinforced core with mineral wood insulation

Customised solution which can be tailored to any environment
Download the Traffidor Secure datasheet
The service from Tekta has been perfect.
Option Packs
The Armasecure range is available with 3rd part certifications to meet fire & acoustic door requirements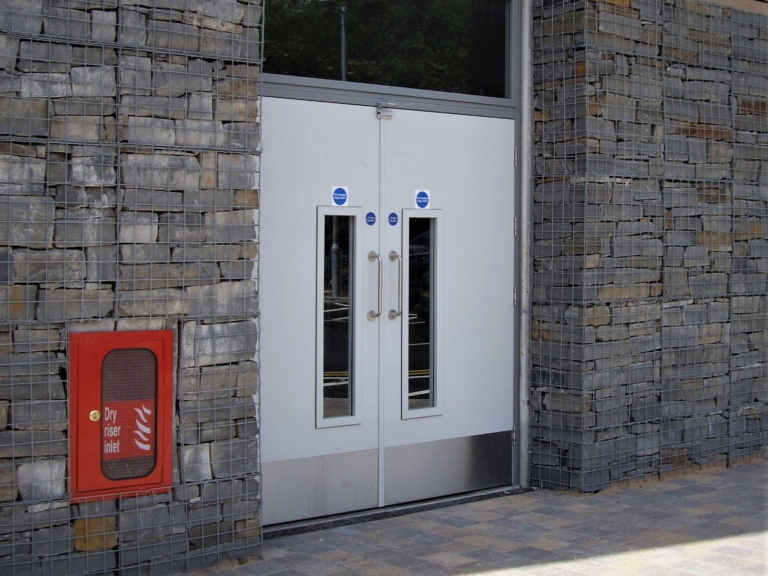 Armasecure F Fire Doors
Armasecure F doors are available tested to provide 1, 2 or 4 hours of fire integrity. Fire rated doors can be fitted with a wide selection of vision panels and fire-block louvre panels.
Armasecure dB Acoustic Doors
Armasecure dB hinged acoustic doors are available with acoustic performance up to 50 dB sound reduction. The ratings have been certified according to European standards. Armasecure dB door sets can also be combined with fire resistance, thermal performance or vision windows.