The Rapidor Impact high performance high speed roller door is a unique cost-saving solution for environments where doorways are in high usage and a good seal is required for environmental control.
The doors offer quiet and reliable operation and are available with opening speeds up to 2.5 Metres/ second. Rapidor Impact high speed roller doors have a zipper edge which results in a well-sealed door. This, combined with the speed door's soft bottom edge also creates a door which is able to come out of the guides and then self-repair in the event of an impact from forklifts or other traffic.
A variety of safety features are available, such as; photo beams, safety edges, light curtains and traffic lights to comply with all European standards. The doors can be operated by; radar sensor, induction loop, remote control or push button and can be interlocked to suit specific requirements.
Key features/benefits
The specialist Rapidor Impact high speed door is designed for continual use with an innovative self-repairing function to automatically reset the door following an impact.
Cut the cost of energy wastage
Quiet and reliable operation
Opening speeds up to 2.5metres/second
Bespoke electrical configurations available
Tough PVC fabric curtain available in a wide range of colours
Door frames available in Stainless Steel, Galvanised & Powdercoat colour finishes
Impact-resistant and self-repairing
Suitable for high traffic
Low air permeability
Excellent hygiene barrier
Wide variety of vision panel designs & sizes
Specialist variations available for freezer rooms, ATEX areas or air-tight clean rooms.
View the Rapidor Impact High Speed Door in action:
"The doors are fantastic, your staff were very polite and helpful and above all when called all problems have been resolved"
Option Packs
The Rapidor Impact high speed door range comes with a wide selection of different options that ensure suitability in all sorts of environments and applications.
Stainless steel
Door construction in 441, 304 or 316 grade stainless steel
Extra speed
Maximum opening speed increased to 3 metres per second
Insulated curtain
7mm thick multi-layer insulated PVC fabric door curtain to improve the thermal performance
Reduced air permeability
Reduced air permeability pack to reduce air transfer through the door
Wet area
Door upgrades to make the door more suitable for wash down doors
Chilled area
Heating kit for the side columns & motor to make the door suitable for chillers & cold stores
Rodent-proof
Door upgrades to make the door rodent proof for hygiene
Talk to our Tekta Team: 0330 7000 333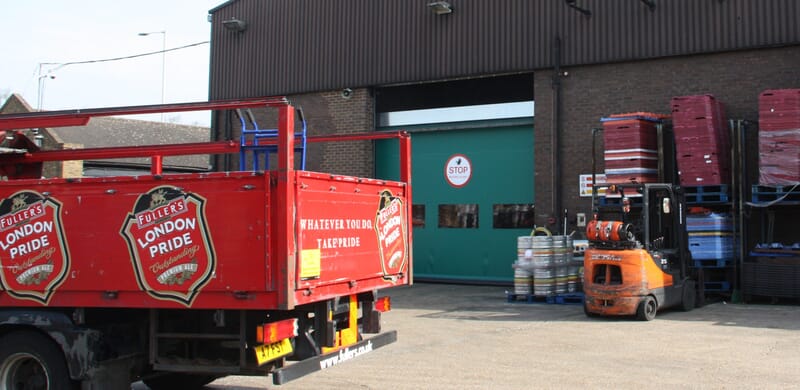 Rapidor Impact for Griffin Brewery
At an iconic London Brewery, we were called to site to review how we could solve issues with their loading doors
Rapidor Impact for Griffin Brewery